PRODUCTS
Wine storage and fermentation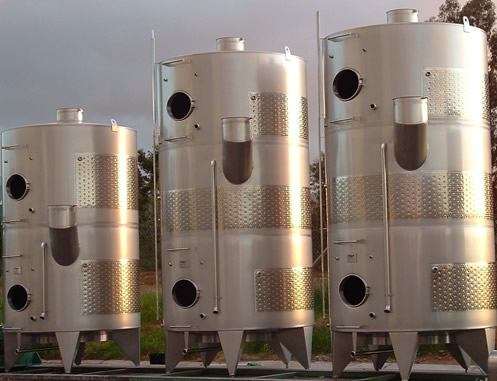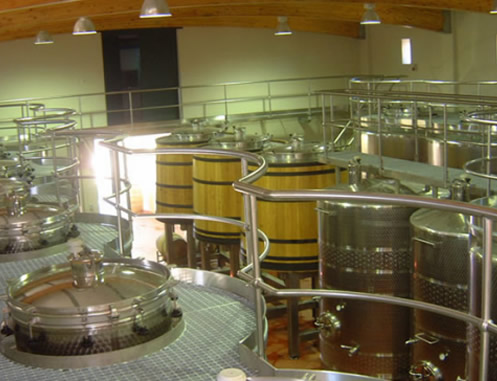 GVTEC tanks provide a climate controlled home for your wine during fermentation, stabilization and storage.
GVTEC tanks are equipped with an oval manway, racking connection, drain valve, sampling valve, cooling jacket (if required), gauge board, adjustable legs, top turret and thermometer, as standard.
Fermentation, stabilisation and storage tanks - cooled by dimple jackets
---
Dimple cooling jackets - manufactured using GVTEC's automated spot welding process to eliminate human error - can be supplied in varying percentages of coverage, benchmarked according to the intended use of the tank. Pre-formed dimple jackets can also be used, when required.
A 30% coverage by surface area is recommended for fermentation tanks; 40% coverage ensures the quick drop in temperature required for cold stabilization: 25% coverage is sufficient for storage use.
The welds of the inflated dimple cooling jackets are pin-point precise, for more efficient through-flow of coolant. Thin jacket profiles ensure better heat exchange, so that less coolant is needed and electricity usage is reduced. Pre-formed dimple jackets or spiral channel jackets can also be offered, if requested.
Spot welded jackets are inflated at a pressure of 6 bar, while pre-formed jackets are leak tested at 3 bar maximum. An operating pressure of around 2 bar is recommended for each jacket type.
Large, site-built storage tanks of up to 1,000,000 litres, can be constructed by our site installation team.
We offer subcontract logistics, installation and walkways associated with our tanks, as an added benefit to our customers.
GVTEC's experienced engineers also offer conceptual design services associated with wine cellar layouts. The conceptual design proposals focus on the optimal utilisation of available cellar floor space and roof height to maximise the value to our clients.
FEATURES AND BENEFITS:
Fabricated from austenitic stainless steel grade 304 and 316. All wine tank tops are fabricated from grade 316 to ensure a higher level of corrosion resistance.
All valves are removable by means of a union
(NW fittings are standard).
Can be supplied with Garolla fittings, if required.
Stainless steel manifold pipes are optional.
A double compartment arrangement is an option.
Welds are strip polished for ease of cleaning (internal & external).
GVTEC fabricates a range of standard wine storage tanks as stock.